I can now talk about what is happening with my original trilogy, Fall of Fair Isle. (Back when it first came out the trilogy didn't have a name but readers may remember it as The Last T'En).
Solaris Books, will be releasing the trilogy as an omnibus print edition, due for publication mid 2015, and it will also appear in e-book editions. This trilogy was not released in the UK and the third book was very hard to get so it will be lovely to have a new edition with (I hope) a wonderful cover by the talented Clint Langley, who did such a good job on The Outcast Chronicles.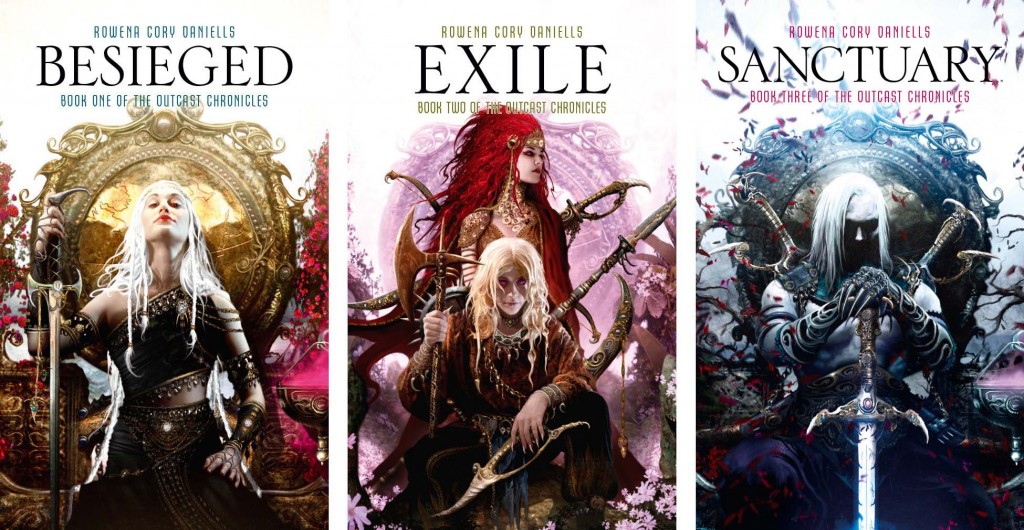 The Fall of Fair Isle tells a more intimate tale than The Outcast Chronicles. It begins where most fantasy books finish – after the great battle.
After the Ghebites invade Fair Isle, Imoshen (named for her ancestor, Imoshen the First) is the last surviving member of the royal family. She has to work with General Tulkhan, the Ghebite invader,  to save herself, her people and her way of life. Hers is a matriarchal society, his is a patriarchal society where the men can take three or four wives. The Ghebites fear the T'En, who they regard as closer to animals than True-men.
As for the T'En, when Imoshen the First led her people to this land, she told them to take partners from the locals, so that they would blend in and be accepted. The T'En inter-bred with the original inhabitants of Fair Isle, who were descended from the Ancients (a race of mystical beings) and their blood was diluted until there are very few pure T'En throwbacks. Six hundred years of this has changed the way the T'En gifts are expressed in full-bloods and half-bloods and much knowledge of old T'En lore has been lost. (They call the mystic plane, death's shadow).
At the core of the trilogy is an exploration of gender politics, as Imoshen and Tulkhan try to find common ground. Despite their differences, they fall in love. To add to the complications, before the invasion Imoshen was betrothed to Reothe, the last of the T'En males. She broke her vows to him, to bond with General Tulkhan. Furious, Reothe leads the rebels in a bid to retake Fair Isle and claim Imoshen. She has to choose between Reothe, who wants to restore the T'En and create a new Golden Age and Tulkhan who is the best of True-men.