Narrelle says:
I enjoyed Cecilia's choice to read zombie stories as a how-to manual for the zombie apocalypse, and of coures all the people having a bet each way on vampires/zombies, but I really liked Vintage Zombie's answer, both for remembering that the brain-eating undead used to be people and for the fact taht she's scared of Shaun of the Dead. I hope she enjoys Best New Zombie Tales Volument Two.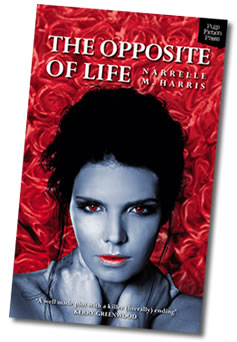 For the copy of The Opposite of Life, Paula's vocal support of the hot vamps has got popular backing, but I liked Melissa May for citing Bram Stoker. Gary (from The Opposite of Life) would approve of that, so the copy of The Opposite of Life goes to her!
Thanks to everyone for joining in the fun!
Vintage Zombie and Melissa May, please email Narrelle Harris to organise the postage of your give-aways.
narrelle(at)iwriter(dot)com(dot)au