I have been featuring fantastic female fantasy authors (see disclaimer) but this has morphed into interesting people in the speculative fiction world. Today I've invited the Dynamic Duo, Donna Hanson and Nicole Murphy who are co-chairs of the Australian National SF Convention, Conflux 9 and who both happen to have a book coming out this year. They are proof that you can be creative and successful, and give back to your community.
Q: Both of you have work and families, you are part of a writing group (the Canberra SF Guild and part of Fantasy Writers on Retreat), you're published and you both have books coming out this year (more later), on top of all this, you put your hands up to be co-chairs of Conflux 9. Tell me honestly, when you came home from that meeting and told your significant others that you'd volunteered to run the Nat Con, what did they say? (From the photo it looks like you might have had one glass to many).
Donna
Well that photo on the website was my birthday shot ( a High Tea)  so I'm not sure we'd dived into the champers at that time. We think we're insane and I think our partners know it. Matthew (Farrer) my partner has this wide-eyed stare every time we talk Conflux 9. The worried frown sort of says-'she's going to rope me in?' And just last weekend I did too, do a couple of panels. It's the power of the inevitable. However, this is definitely my last con.
Nicole
I dreaded telling my husband, Tim, cause he really didn't like the time it took from me when I chaired Conflux 4. But the fact that a) it was with Donna, so the workload wouldn't be as bad and b) I love doing this meant he was fine with it. However, we're both swearing that this will be the last time we organise a con and hoping our partners will keep us to that. Not that that means it's the last thing we'll do for the community. We have ideas. One that keeps popping up in particular (you know what I mean, Donna).
Donna
Nicole do not go there. Do not pass go and do not collect $200. Think of the work involved. You're insane.

Q: Not only are you doing all of the above, but Nicole, you're teaching Year of the Novel with the QLD Writing Centre and the ACT Writers Centre, and Donna you are doing a Masters in Creative Writing, and a course in Millinery (hat making). Is there a point where you think, I can't take on one more thing? Or is your philosophy, the more I take on the stimulating life is and it's just as well I'm really good at juggling?
Donna
I have my limits. Like if I sold a trilogy I'd probably have massive brain melt. But that's not going to happen in the next 3 months. I'd like it but you know gee a girl can only do so much. Ironically, I do find the more I have on the more productive I get. RSI stymies me a little. I guess it's a matter of stacking. Conflux is over at the end of April. Things are hotting up now with Conflux so I ease off on the writing. The Masters starts soon, but I'm taking all of April off to get the Conflux thing done and uni if needs me. Millinery if the course goes ahead (they need a minimum number) will be my time out. I have arthritis in the neck and one day I'm not going to be a happy camper so I do have this philosophy of doing as much as I can now rather than waiting until I retire or something. And to ease the pressure in my writing gears and cogs, I wrote two novels in the last half of 2012 and I just have to polish them and send them out this year. The pressure to write has eased a bit.
Nicole
There is no doubt in my mind that I am quite, quite mad. However, there's nothing that annoys me more than being bored, and this year there's little chance of that happening! The two Year of the Novel courses were important to me because I love teaching and helping people – I get as much satisfaction from seeing friends and those I'm mentored and taught succeed as I do from my own success. More, even, cause I don't have to deal with the worry and fretting and constant fear of bad sales figures J And as Donna said Conflux is over is just over three months (eep, eep, eep!) and I'm going easy on myself on the writing front in order to keep things under control. That said – I've got two books coming out between now and then, one of which I'm editing and publishing, so… Back to the comment about being mad.
Q: You've been involved in running other Confluxes and other events like the World SF Con 2010. How did you get involved in running events? Was it overwhelming the first time? I know Conflux 9 is running a pitching opportunity with Marc Gascoigne from Angry Robot. Nalo Hopkins is the International writer GOH, Karen Miller is the Australian GOH writer and Kaaron Warren is the Special Guest writer, (see here for details), so you get to meet cool writers and editors. Are there other benefits to running a Con and is it something you'd recommend to people wanting to become writers? (For information on the pitching opportunity see here).
Donna
Nicole will tell you I roped her in. I'll blame Maxine McArthur because I'd never heard of SF cons (well I had been to a Star Trek convention and knew about those but not fan run lit cons). I ended up being the Chair of Conflux (number 1) but I was just helping out on the committee (cough because Maxine gave me strong hints that I should) and then I ended up being the chair. I did the next one and then scaled down my activities to focus on writing.
I did make a lot of contacts and made many friends as a result. In those early days I was very enthusiastic and networked a lot and I guess brought in other writers to the fan scene. The rest is history. For that first con though I had 10 months off work and I didn't write much either. I think I did other things like edit anthologies.
I do recommend getting involved with organising these conventions and helping out. It's a good experience and you make great contacts. However, I do recommend a little balancing between your activities. I got invited to help out with worldcon because I got noticed doing the Conflux convention running. It can be addictive. Worldcons are great fun (going to them and being involved).
Nicole
Yes, it's all Donna's fault. She asked me to run the short story competition at the first Conflux. I wasn't totally happy with my work on that, so I decided to work on the next convention to prove I could do it. And then the next convention. And then I chaired one. And then. And then…
And now, thanks to Conflux, I work full-time as a professional conference organiser. So yeah, I love them.
I'm not sure I'd recommend it to other writers, because it is very time consuming. That said, if you're not good at networking (like me, I'm atrocious at it, unlike Donna who is an absolute marvel at it), then getting involved in convention organising is a great idea because you have to meet and interact with these people. I've not doubt that my work with Conflux helped me get my foot in the door with Harper Collins. Didn't get me published – it was the fact the company loved the books that did that, but it helped.
So balance it up – the time it takes versus the fact it can be very beneficial. And fun. And you get to meet the coolest people, and often they'll stay friends for a long time after.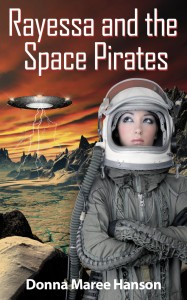 Q: Donna your book Rayessa the Space Pirate is available from Escape Publishing. You edited the Australian Speculative Fiction: Genre Overview, which was published in 2005. You've had a lot of short stories published which range from fantasy, through erotic horror, to SF (is this right?), yet Rayessa the Space Pirate is a rollicking Space Opera, which doesn't take itself too seriously. Was it a relief to let your hair down and write for the fun of it?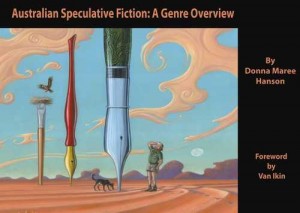 Donna
I had fun writing Rayessa and the Space Pirates. I wrote it a long time ago, when I was a fairly new writer. Even though it's been revised, I stayed true to the character during those rewrites. She's fun, the story is fun. But when you take in my other work, it is surely different and not what you'd expect from me. I'm very proud of it because of its lightness, its vibrancy and like you said rollicking space opera.
Many of my short stories are me flexing my writing muscles. I evolved from just writing a story to experimenting with styles and content. I do tend to go a bit dark at times. 'Heat' was a bit like that with the split narrative (it's in my free fiction section on my blog-warning adult content) and in the last couple of years I'd been writing short paranormal too, just to see if I could. I'm a bit astounded that I really like writing happy ever afters just as much as the soul sucking endings. I write what is in my head, pursue ideas and go with it. Who knows what I'm going to do next.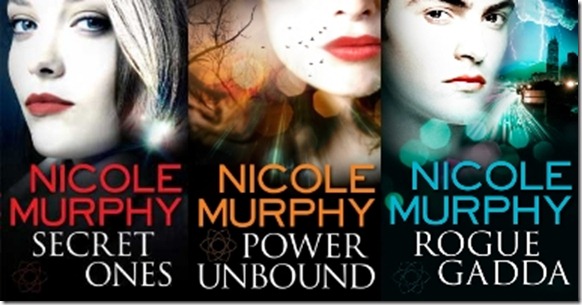 Q: Nicole you've had numerous short stories published, and an Urban Fantasy trilogy set in Australia called The Gadda (Harper Collins). The tag-line on your blog is: Where Fantasy and Romance Collide. So your next book's genre is a step sideway, but not that far. Arranged to Love is written under your pseudonym, Elizabeth Dunk. (For a taste of Elizabeth Dunk's writing style see here, Claudine's New Adventure). What was the genesis of Nicole the fantasy writer evolving  to include Elizabeth the romance writer?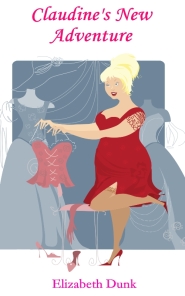 Nicole
It all started way back when I was originally writing the first lot of Gadda books. I'd been thinking I was a straight fantasy/SF writer, but I had one of those blinding moments of inspiration where I realised I kept putting romance in as a sub-plot and I'd probably be better off pulling it to the forefront. That was the genesis of writing the Gadda books and when they were done, I kept having ideas for contemporary romances as well.
In 2011 I was at home, writing full-time, and I needed to do something apart from the Gadda books to challenge myself. So yes, I took a step sideways – a small one, but definitely still a step. My aim was to write a Mills and Boon category style romance. The only way Arranged to Love matches that is in length – otherwise it fails. But it's a great story and it had a checkered road to publication but I'm so happy it's there.
I'd always intended to use a pseudonym, but to be open about it because some people read only genre, some people read an author. So there will be people who will read anything I publish and there will be romance readers who won't touch the Gadda books with a barge pole and vice versa. Here's hoping it works.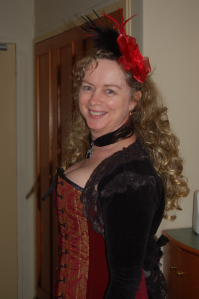 Q: I understand there is a Steampunk High Tea is planned for Conflux 9 on the Thursday afternoon at 3pm.  (For the full program, see here). I'm guessing this mean we all get to dress up in really cool steampunk gear, sip tea and nibble cucumber sandwiches. Do you have any fashion advice for the event?
Donna
I think people should go with that they feel comfortable with. I'm dressing up because: hey I made a dress so I must wear it. But people can come with a bow tie, or goggles or a gun or just in day clothes. I bought Matthew a Nerf Gun. I expect him to paint it and make it look all steampunky. My son gave me a steampunk necklace for Christmas. I'm almost kitted up.
It's a bit of fun. People can do traditional Victorian or make it up with whatever they like. I've seen men and women in corsets, kilts, junk, jodhpurs and google, top hats, parasols. Any and all. Just come for the fun and the high tea. I believe we get lovely sparkling wine too. Try googling steampunk clothing and you'll be amazed at what is out there. Mind bogglingly awesome. There are some very talented and creative people out there. Just remember you have to book and pay for the high tea as it is an extra event.
Nicole
Can I just add – cucumber sandwiches are awesome! Honestly, you read about them and think, how old fashioned, how silly, making sandwiches with cucumber only, what a strange thing to do. But they're great. I prefer them with a yoghurt dressing, rather than cream cheese. Take note, Rydges!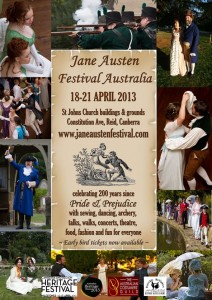 Q: You are also staging a Regency Banquet. Does this involved getting dressed up like Elizabeth and Mr Darcy? What can people expect at a Regency banquet?
Donna
Yes, if you want. We ran a Regency Banquet a few years ago and we had a great turn out. A lot of people love the period and went all out. Some had period costumes, some people adapted modern wear to make it look period, some of those were very effective.
The menu for the banquet is taken from the Conflux cookbook, Five Historical Feasts, by Gillian Polack. We are re-running that. The menu was researched and put together by Gillian, who is our very own historian (she's a Dr), with the help of a bunch of us who tested and tasted the recipes. The food was really good to eat. Not good for my waistline.
This year to spice things up we have entertainment from Earthly Delights. They are the group that run the Jane Austen Festival in Canberra the week before Conflux. (they always get TV coverage of the event). John Gardiner, his wife Aylwen Gardiner-Garden will be organising the impromptu dancing and also music. John has agreed to do a 3 hour workshop on Regency Dance and Manners on the Friday. I'm so going to that. ($45 for members) and Aylwen is bringing items of costume to do a hands on workshop on costume design ($10 for members), so we are getting into the Regency thing. I hope we get takers because the dance workshop needs 16 people to work.
Nicole
The original Regency banquet was run during my conference, Conflux 4 and I may be biased, but I think it was the best of the lot. Everyone really went all out with the costuming and the whole place looked wonderful. The food was overwhelming – there was very little desert eaten because it was so rich we were already full. A fabulous night.
Note that while we've cut a lot of allergens out of the menu (eg there's no fish/shellfish, no nuts), there's one thing we can't avoid – dairy. The Regency folks were nuts for it. And butter, so forget your diet! But if you're lactose intolerant, there's so little food available for you that you've got to seriously consider if it's worth your while.
Q: Do you have any tips for first time convention goers who are planning to come to Conflux 9? (For membership information see here)
Donna
Be prepared to meet people, have fun, be entertained, learn things, network (drink). Be prepared to be thoroughly knackered. Come to our Meet the newbie session in the bar after the steampunk high tea. You'll get to meet seasoned con goers to find out how to make the best of your convention.
Nicole
Don't be afraid to approach your favourite writer. One of the great things about our industry is that we've all been in the same boat – having to greet our hero for the first time. A lot of the time, we made complete and utter fools of ourselves but we've always survived. Australia's SF industry is wonderfully supportive, encouraging and fabulous and generally we only bite if asked to.
If you're coming as a writer, intending to network with editors, agents and publishers – be cool about it. For professionals, conventions are part work, part fun and hanging with friends. So be aware of the circumstances and if you are going to approach them for a chat about your work, be polite and understand if they ask you to come back another time.
And whatever you do – don't do what some shmuck did to poor Stephen King at a convention and chase a writer/editor/agent/publisher into the toilet with your manuscript and fling it under the door to them!
That said, a lot of us are very bribable. I drink red wine 🙂
Rowena thanks for the interview. You've done heaps of research. It is much appreciated.
Catch up with Donna on GoodReads
Follow Donna on Twitter  @DonnaMHanson
Catch up with Nicole on GoodReads
Catch up with Nicole on Facebook
Follow Nicole on Twitter  @nicole_r_murphy