Anyone living in the Melbourne area might be interested in this.
St Kilda: Scene of the Crime
A Sisters in in Crime Event as part of StripFest 'an all-new arts festival connecting community, arts and businesses in the St Kilda Village around Acland Street, being held from 23-30 August'
When:  2pm Sunday 25 August –
Where: Bank of Melbourne, 161/163 Acland St., St Kilda
My old stomping ground! I used to have a bookstore around the corner in Barkly Street.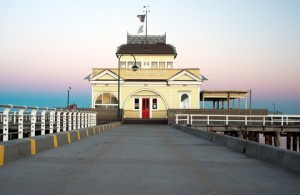 What is it about St Kilda that makes it such a favourite locale for murders most foul – at least of the fictional kind? A scheme of crime authors with books set in St Kilda will be exploring the question in an afternoon of fun and felony with crime buffs organisation, Sisters in Crime: Australia – Leigh Redhead, Simmone Howell, Rowena C Daniells and Lindy Cameron.
Leigh Redhead is the creator of the award-winning Simone Kirsch stripper-turned-private eye series, set in St Kilda and East Kilda: Peepshow, Rubdown, Cherry Pie and Thrill City (Allen & Unwin).

"St Kilda has always been the scene of the crime for me, because that's where I lived when I started writing the Simone Kirsch private eye books. Simone lives in Elwood, jogs along the foreshore, and goes to pretty much every pub in the area in the course of solving her cases.
"My first book, Peepshow, starts with the body of a King Street strip club boss washing up on St Kilda beach, and ends at the Greyhound Hotel with Simone flirting with the bass player from a country band. They do say write what you know…"
Redhead now lives in Highett and is currently working on the fifth book in the series, Repentance Creek.
Simmone Howell's 'new adult' crime novel, Girl Defective(Pan Macmillan), was published earlier this year and features 15-year-old sleuth Sky, a body found in the Elwood Canal and lots of St Kilda colour.
"I grew up in the outer east and St Kilda was always this mythical dreamland to me. It is a place that's already full of stories and I wanted to add to the layers. It has a reputation of being a place of edges and art and criminal activity and because its mood is always shifting. It seems to me to be like a place where people come to rather than from," Howell said.
"I love all the metaphors of it beginning as a swamp, then becoming a rich persons' playground, then falling into disrepair and then becoming gentrified. Back when I lived there, I was in a duplex that had a Sai Baba devotee on one side and madman living in the shed out the back. Plus it's physically beautiful – the sea and the wide streets, the Spanish houses and the eerie canal!"
Howell is also the author of Notes from the Teenage Underground and Everything Beautiful and now lives in Castlemaine, where she writes and runs creative workshops for adults and young people
Rowena C Daniells gives crime a paranormal twist in The Price of Fame (Clan Destine Press) which features documentary maker Antonia Carlyle who uncovers dark secrets in St Kilda when she researches a cult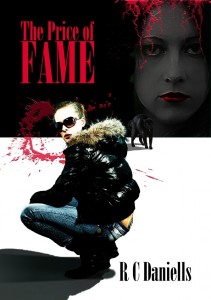 '80s band.
"Quite by chance I ended up living in St Kilda when I first came to Melbourne. This was 1978 and back then St Kilda was a slice of Europe. I loved the cake shops on Acland Street, the markets overlooking the bay and the St Kilda Botanical Gardens," Daniels said.
"I lived in Melbourne for fourteen years, most of that time in St Kilda, Elwood and Elsternwick. It was only natural that I'd set my book in the area I knew. I even make a cameo appearance in the narrative as a bookshop owner. (I used to have a bookshop in Barkly Street). Many of the events described in the book were based on fact with the names and details changed to disguise those involved…"
Daniels now lives in Brisbane where she studies martial arts in her spare time.

Lindy Cameron, who is also a co-convenor of Sisters in Crime, said that Kit O'Malley, her lesbian P I, sees a lot of action in St Kilda in her novels Blood Guilt, Bleeding Hearts  and Thicker
Than Water.
"When I decided to create a private eye who lives in a flat above her office in Richmond, it was a given that many of her cases and adventures would happen around inner-city Melbourne," Cameron said.
"I actually wanted our city to become a character in the series, so that locals could identify with my human characters as they roamed the streets; and anyone else would think it a great place to visit.
"St Kilda features quite prominently in the three O'Malley mysteries, particularly Blood Guilt, because I needed a suburb with colour and movement, with history in terms of buildings and local culture, with standout areas and landmarks like Luna Park, the Esplanade, St Kilda beach, and especially with great eating places – because being a fairly typical P I, Kit O'Malley does a lot of 'eating out'."
Cameron is also the author of the museum mystery, Golden Relic, the Kit O'Malley P I series and most recently the espionage thriller, Redback. She has edited and written a number of true crime books and now runs Australia's only genre-specialist publishing house, Clan Destine Press.
St Kilda has been the 'scene of the crime' since at least 1886 when Fergus Hume published The Mystery of a Hansom Cab, the first crime novel anywhere to sell more than half a million copies.

Phryne Fisher, the twenties' sleuth featured in Kerry Greenwood's best-selling series, lives at 221B the Esplanade, St Kilda. There's no such address, of course, but the 221B is in homage to Sherlock Holmes who famously lived at 221 B Baker St, London. The ABC drama, Miss Fisher's Murder Mysteries, unfortunately has Phryne living elsewhere.
Sisters in Crime Australia has been celebrating women's crime writing on the page and screen for the past 22 years.
Venue: Bank of Melbourne, 161/163 Acland St., St Kilda
Cost: $10 (members/concession)/$15 (non-members). No bookings necessary. Men or 'brothers-in-law' welcome. Books on sale.
Info: StripFest ; Carmel Shute, Sisters in Crime National Co-convenor: 0412 569 356.