Narrelle Harris tells us about her love of writing to music.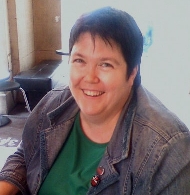 I like listening to music when I write. Not all the time, of course. Sometimes you need the sounds of silence so that the difficult words have somewhere to line up and make their own rhythm.  But generally, and especially during first drafts, I like building up a soundtrack to the world I'm building.
I have eclectic tastes in music: my collection contains classical, light opera and new age albums right next to alternative rock, pop punk, folk punk and the occasional heavy metal band. I like to discover new bands and new styles, though not everything is to my taste. I'm open to persuasion, though. I'm always chasing after the corollary to Sturgeons Law.
(Sturgeon's Law being that 95% of everything is crap: the corollary therefore being that the other 5% is worth looking out for. One day I'll find the 5% of yodelling that works for me.)
Music has been a long love of mine. I learned piano as a child, played the recorder at school and on and off over the years I've attempted songwriting. I co-created a Blake's 7 filktape back in the 80s (writing lyrics mainly, though also one piece of music, and I even sang on one track.)  I'm better at lyrics than melodies, though, and sadly my vocal range is limited and kind of nasal – but the call of music is always near.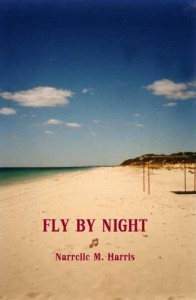 In fact, for me, music and writing are never far apart. My crime novellas, Fly by Night and Sacrifice, are about two musicians. I've written lyrics for some of my stories, and music is often referenced in my books. It seems perfectly natural to me to develop a soundtrack for each book I write.
By 'soundtrack' I don't mean 'playlist'. I've compiled a playlist or two to accompany books I'm working on, but often once I've done so, I don't listen to it. I tend to pick songs that reflect aspects of the plot or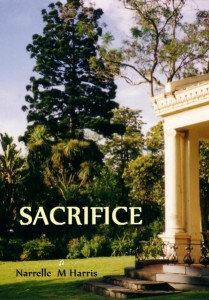 character development, but then I find that in the writing, things move and change; they subtly change or veer off, and songs I might have liked while I was working on the first draft of chapter five are no longer right by the time I'm at chapter 25. By the second or third rewrite they may not be relevant at all. Worse, the song might be subconsciously pushing me in a particular direction which lacks subtlety or that truthfulness which is so important and getting to the heart of the character or their story.
I suppose a playlist focuses too much on the lyrics, which can be detrimental. Soundtracks are more about the general rhythm and atmosphere of the aural landscape that contributes to the mood and setting.
So playlists don't usually work for me – but I do definitely have soundtracks that go with my writing. When I wrote Fly By Night and Sacrifice, I spent a lot of time listening to REM and About Six Feet (my brother in law's band – he allowed me to use the lyrics to some of the songs in the book). When I wrote Witch Honour and Witch Faith, Loreena McKennitt, Clannad and Enya got a lot of air time.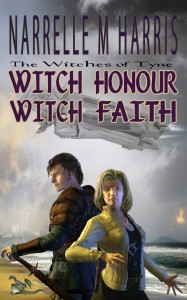 The Opposite of Life had a more eclectic soundtrack of alternative rock, but by the time I got to Walking Shadows, I was steeped in pop punk and the likes of Fall Out Boy, though more recently the soundscape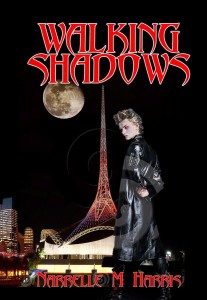 consisted of Shinedown,, The Matches and Florence and the Machine.
The artists listed for each book are of course not the only ones I listen to while working. My choices can be fairly wide-ranging and include quirky lounge music (like The Real Tuesday Weld), show tunes from Cole Porter as well as music selected for its ambience.
It's not completely random, though. The choice of the right bands, the right kinds of songs, the right mood and tempo, can be important in getting my head into the right space.  I work full time in day jobs to pay the bills, with only ten or so hours a week to write, so choosing the right background sound can act like a mnemonic  trigger (or Pavlovian response) and switch my brain from corporate-writer-mode to creative-writer-mode faster than I can sometimes achieve on my own after a day in the office.
Sometimes it's too much. If I have a tricky scene, or something
intense, I need silence. Then the music goes off and it's just me and the tyranny of the blank page. Often, though, the aural queue helps slot me into the imagined world I'm writing, unlocks the imagined people, and off I can go.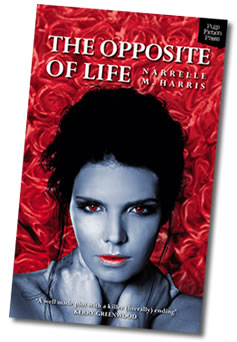 I may not have pursued music through the piano (and a short lived attempt at the guitar, abandoned when I broke both bones in my forearm a month later); I may only attempt to write songs in a haphazard fashion; I may be half-hearted and fickle about the use of playlists; but music is an essential part of how I write and the worlds I create.
And I'm open to suggestions. Does anyone have any bands to recommend? After all, I do have a new book to write.
What's your favourite vampire-related song and why?
Catch up with Narrelle on GoodReads.
Catch up with Narrelle on Twitter  @daggyvamp